Seoses intensiivse sõjategevusega Ukrainas ning pärandobjektide sihiliku ründamisega on rünnaku alla sattunud ka Ukrainas elavad pärandispetsialistid.
Et nad saaksid jätkata oma tööd Ukrainas ja hoida ning kaitsta Ukraina kultuuripärandit, on hädavajalik tagada spetsialistide tööks ja eluks vajalikud vahendid. Nende tegevuste võimaldamiseks on Ukraina muuseumitöötajad loonud mittetulundusühingu HERI (Heritage Emergency Response Initiative), mille üheks eesmärgiks on pärandiga seotud töö jätkamine ka keerulises olukorras.
HERI tegevust ja selle kaudu Ukraina pärandi säilimist on võimalik toetada ICOMOS Eesti kaudu (teostame makseid kord nädalas) või otse.
Mittetulundusühing Eesti ICOMOS pangakonto on EE254204278618753001 (Coop pank), palun märkige seletusse kindlasti märksõna "Ukraina HERI"
On ka võimalus teha rahvusvaheline ülekanne otse Ukrainale, kes on ka meie maksete saaja (Tustan NGO). Võtke meiega ühendust! Aitame koos! Слава Україні!
Lisainfo ICOMOS Eesti liikmetelt:
Linda Lainvoo – linda.lainvoo@gmail.com, 56 652 865
Ave Paulus – ave.paulus@artun.ee, 5239404
A direct hit by a Russian missile destroyed the Hryhoriy Skovoroda National Museum in Kharkiv Region, 7.05.2022. Photo by Oleh Synehubov and the Main Directorate of the State Emergency Service of Ukraine in Kharkiv Oblast (Фото Олег Синєгубов та Головне управління ДСНС України у Харківській області).
https://www.facebook.com/%D0%A8%D1%82%D0%B0%D0%B1-%D0%BF%D0%BE%D1%80%D1%8F%D1%82%D1%83%D0%BD%D0%BA%D1%83-%D1%81%D0%BF%D0%B0%D0%B4%D1%89%D0%B8%D0%BD%D0%B8-Heritage-Emergency-Response-Initiative-109558158344811/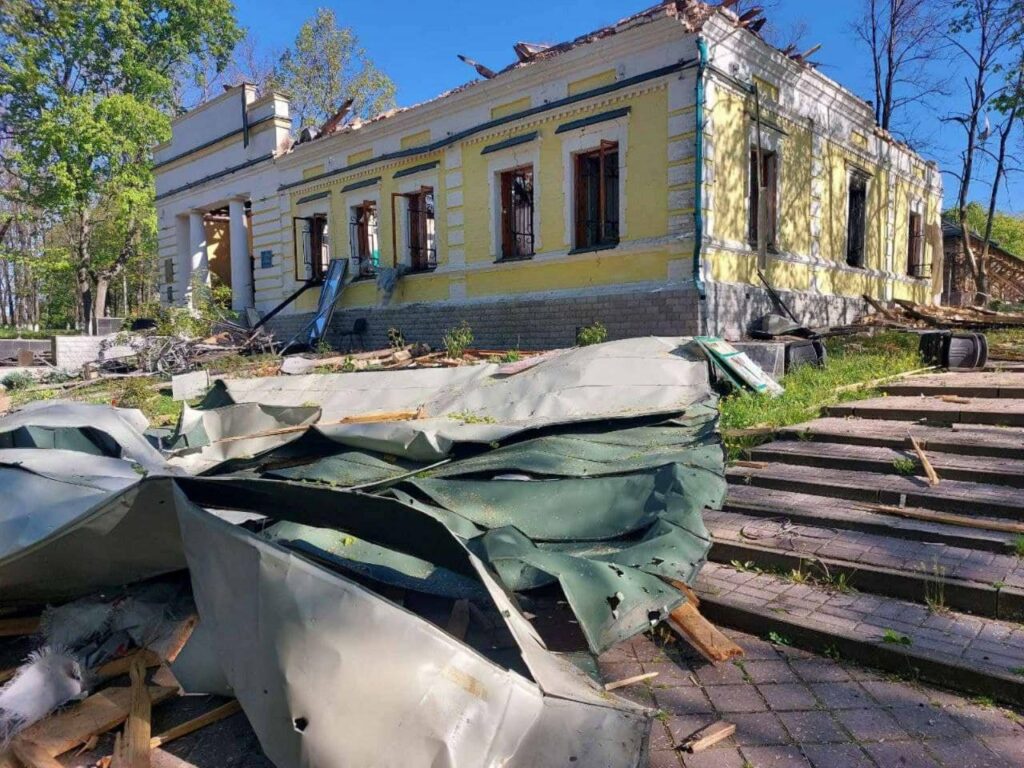 Ukraina kaart Pirogivi muuseumist, foto Ave Paulus